Metrics you can trust
GitSense takes development metrics very seriously and is focused on ensuring everyone can trust and use what they see.
Numbers with context
A single line change can take more work than a hundred and with GitSense, developers can easily explain how and why with code level tracing. With code level tracing, developers and leaders can always go from insights to code, to ensure effort is properly reflected.

GitSense Difference
GitSense is the only development analytics solution in the market that supports code level tracing, which ensures numbers can always be put into context.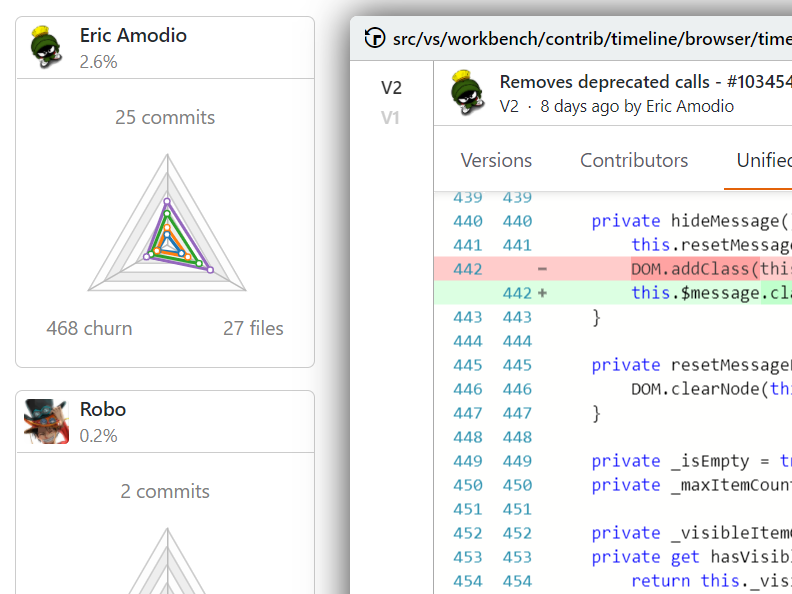 Developer first metrics
GitSense isn't designed to measure developers, it's designed to help them. With GitSense insights, developers can quickly identify domain experts. Detect collisions between pull requests. Track code changes across repositories and much more.

GitSense Difference
GitSense is designed to be used on a daily basis by developers, which ensures everyone (not only leaders) can see value in software development metrics.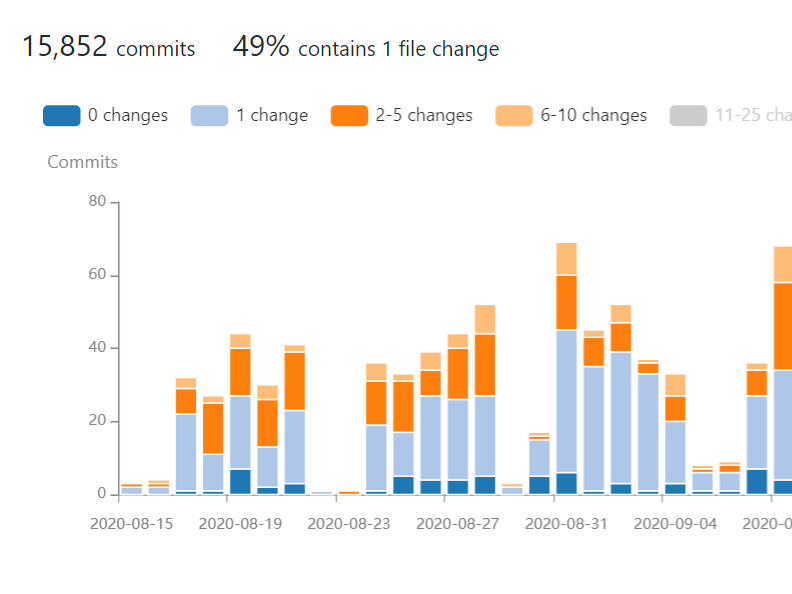 Data confidence
Every line change, from every commit can be easily reviewed and analyzed with your favorite business intelligence tool or by querying the SQL database directly, which makes verification a cinch and more importantly, allows you to make data-driven decisions with confidence.

GitSense Difference
GitSense doesn't store aggregrated code history like other analytics solutions, which means you can easily slice and dice your codes history to validate insights and to surface new ones.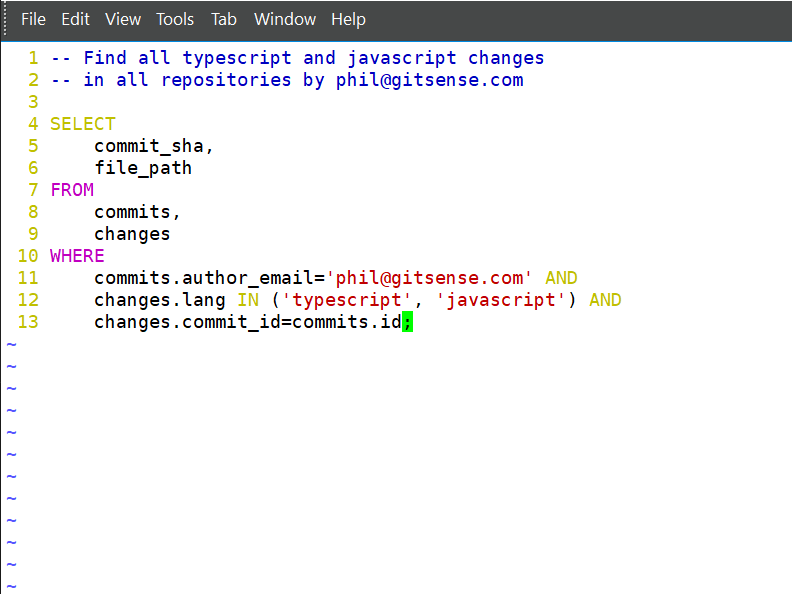 Work better, together
From developer to CEO, GitSense provides a unique view into the software development lifecycle that can help everyone work better, together.
Developers
See software development and teamwork in a whole new light.
Prevent problems from arising with continous code monitoring which ensure nothing changes without you knowing.
Take teamwork to a whole new level with team insights that lets you instantly see what everybody is working and offer a helping hand when needed.
Managers
Maximize team performance with data-driven insights your team can trust.
Eliminate unnecessary and distracting team updates with self-service insights that lets you see exactly what is happening in your team in real-time.
Create individual and group profiles for your team to help you quickly identify patterns and anti-patterns in your team to help them move forward and grow.
Executives
Bring business intelligence to the software development lifecycle.
Use objective data that can only be gathered at the scale that GitSense can to help drive efficiency and align your engineering departments
Better understand how open-source software is used in and outside the company to help engineering departments better manage resources and to spur innovation.
Mac, Linux and Windows
Get started with one simple command. Install GitSense in the cloud, in your data-center or even on your laptop in less than a minute.
Quick start instructions

# Copy and paste the following command to download and start GitSense.
docker run \
    --rm \
    --detach \
    --name gitsense \
    --volume gitsense:/opt \
    --publish 3347:3347 \
    gitsense/insights

# Success! GitSense is now up and running and can be accessed on port 3347 on your
# docker host machine.  Click here for setup instructions.